South Carolina had more Revolutionary War battles fought within its borders than any other state. There was no community at Trough Shoals at the time of the Revolution but there were settlers in the area, particularly along the
Pacolet River
. There was an important ironworks and settlement at what is now
Glendale
.
Revolutionary War events and battles swirled around the area that was to become Pacolet. This history was not stressed in times past and many residents do not know how heavily this area was involved in the War. When I was in school in the 1940's and 1950's the local history was almost ignored. Today, through the efforts of Mayor Elaine Harris and others, local students are made much more aware of the Pacolet history and take field trips to many locations.
There was not a Revolutionary War battle fought in what is now the town of Pacolet. However, it was surrounded by important events and battles of the War. Some of these were close enough that you could probably hear the sounds of the muskets from the fighting at
Glendale
and maybe even cannon fire from
Cowpens.

In an effort to get an appreciation of how much happened close to Pacolet, consider the following. Draw a circle , as shown below, with a radius of 25 miles centered on where the bridge crosses the river and consider what happened within it during the War. Even during the Revolution, a place 25 miles away could be reached by a person on horseback in half a day. The distances given in this story are the straight line distances from the bridge to the locations.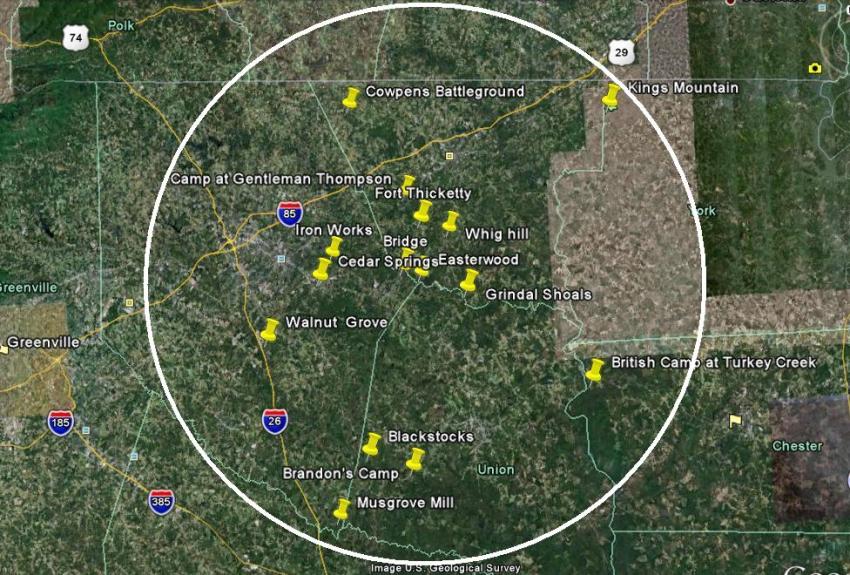 Most of the Revolutionary War activity in all of Upstate South Carolina took place within the confines of this circle. Two of the most important battles in the entire War,
Cowpens
and
Kings Mountain
took place within our circle. Both of these were critical American victories that helped lead directly to the British surrender at Yorktown, Virginia in October, 1781.
Let's visit all of the War events inside this circle and start our journey from the present bridge at Pacolet or Trough Shoals. The Shoals was well known during the War. It was located not far upstream from where the bridge on Hwy 150 is today.
Click on the following links to read what happened in that location.
Easterwood Ford

Morgan and Grindal Shoals
Fort Thicketty
The Ironworks at Glendale
Wofford's Fort
Cedar Springs
Blackstocks
Musgrove Mill
Brandon's Camp
Cowpens
Kings Mountain
The Camps
Just Plain Murder