After many years of rumors, Pacolet Mills finally got the Anderson Pool, in May, 1955. It was a big hit from the very beginning with all the young people. The pool was located in the level area behind the cloth room that still exists. See more photos of activities at the
Swimming Pool.
Don Camby has provided the following information about the pool.
It was named for the late D.W. Anderson, President & Treasurer of Pacolet Mills (1933-1946).
It opened on June 1, 1953.
It was designed & built by the Southland Pool & Engineering Co. of Atlanta, GA.
Pool description:
Was bell-shaped, 4,500 square feet.
Was 90 feet by 80 feet at shallow end & 35 feet at deep end.
Had depth: 3 feet to 10 feet.
Contained 165,000 gallons of water filtered through 3 filters (complete every 8 hours).
Had (5) underwater lights each 1,000 watts in size .
The wading pool was fan-shaped, 8 inches to 16 inches deep.
It was operated under the direction of the Pacolet Mills Athletic Association.
For one period, the Director & Senior Lifeguard was Bill Walker and the Lifeguards were Buford "Butch" Trent, Don Wells, Mary Ann Wells, Sarah Hughes and Marguerite Holmes.
Over time, there were different directors and lifeguards.
Typical admission: adults 25 cents; children 15 cents. Bulk rates were 30 admissions: $6.00 adults; $2.70 children
The pool was big news in Pacolet. The following articles about the pool were in the
Spartanburg Herald-Journal.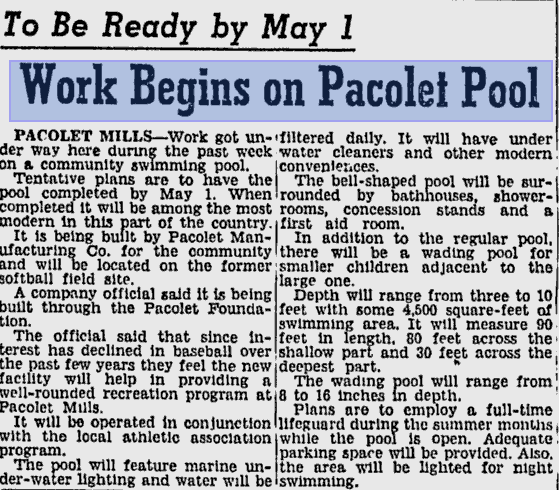 Article from Feb. 21, 1953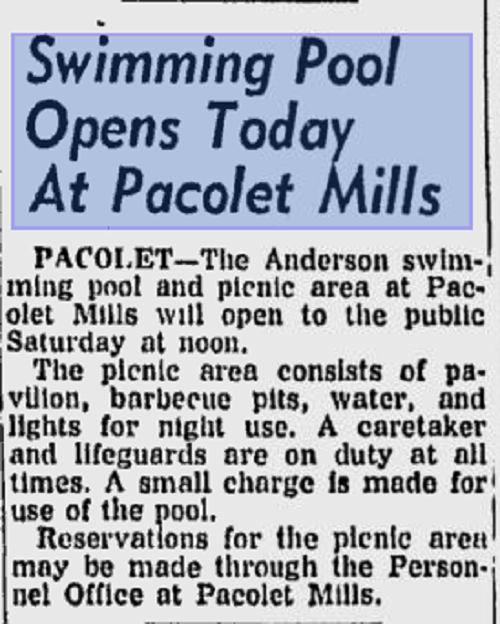 Article from May 21, 1955
Today, there is not a trace of the former swimming pool. Where the pool used to be is covered in trees. The site of the pool as it appears today is shown below.