Leon Burgess
William Gibson
Harry Goforth
Janice Kirby Hill
BELTSVILLE, Md. -- Janice Kirby Hill, 62, of 13105 Ivy Drive died Aug. 10, 1999, at her home after a lengthy illness. A native of Pacolet, she was daughter of Opal Pearson Kirby of Pacolet and the late William Leo Kirby. She was a graduate of Lander College in Clinton with a degree in Home Economics and received a Master's Degree in education from Bowie State College. She had been a resident of the Washington, D.C., area since 1961. She had a 31-year career in Prince George's County, retiring in 1992 after about four years as coordinator of the Math and Science programs at Concord Elementary School in Laurel, Md. In the 1980s, she was a resource teacher at Adelphi Elementary School and had earlier taught at Templeton Elementary School in Riverside, Deerfield Run Elementary and Bond Mill Elementary Schools in Laurel, Md. For the past six years, she worked as quality control inspector and an inspector trainer for Elliott Affiliates Ltd., a performance-based management consulting company in Baltimore. She was a member of the Episcopal Church of Our Savior in Silver Spring and Alpha Chi. Survivors include her husband, John Irvan Hill of Beltsville, Md.; a son, David Hill of Riverside, Calif.; a brother, W. Terry Kirby of Spartanburg; and a sister, Kitty Kirby of Spartanburg. Memorial services were held Friday at the Episcopal Church of Our Savior in Silver Spring, Md. In lieu of flowers, memorials may be made to Pacolet Mills Rescue Squad, P.O. Box 545, Pacolet Mills, 29373; or the Cancer Support Group, c/o Episcopal Church of Our Savior, 1700 Powder Mill Road, Silver Spring, Md., 20903. Courtesy of J.F. Floyd Mortuary.
Barbara Knox Teal


Tom Mabry

Alline Minton Jacques
Alline Minton Jacques, 65, of Churchwoods Apts., Lexington, died May 3, 2003 at Lexington Medical Center. A native of Pacolet, she was the daughter of the late Henry R. and Lila Kirby Minton and widow of Franklin D. Jacques. She was a memberof the St. Paul Lutheran Church of Columbia and was a retired registered nurse. Surviving are a daughter, Leah J. Rivas of Lexington; two sons, F. Dennis Jacques of Spartanburg and Terry D. Jacques of Columbia;two sisters, Pauline M. Jenkins of Pacolet and Sara M. Hall of Bellville, Mich.; one brother, David Minton of Pacolet; and three grandchildren.
Charles O'Dell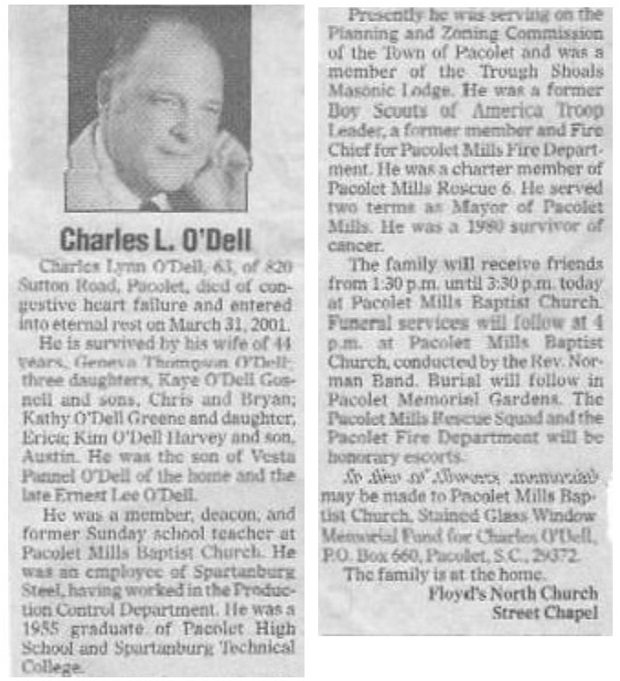 Buddy Lewis Pierce

June Puckett Bridges

David "Skeet" Smith - See Details

Tom Watson
Evelyn Lanford


Larry Toney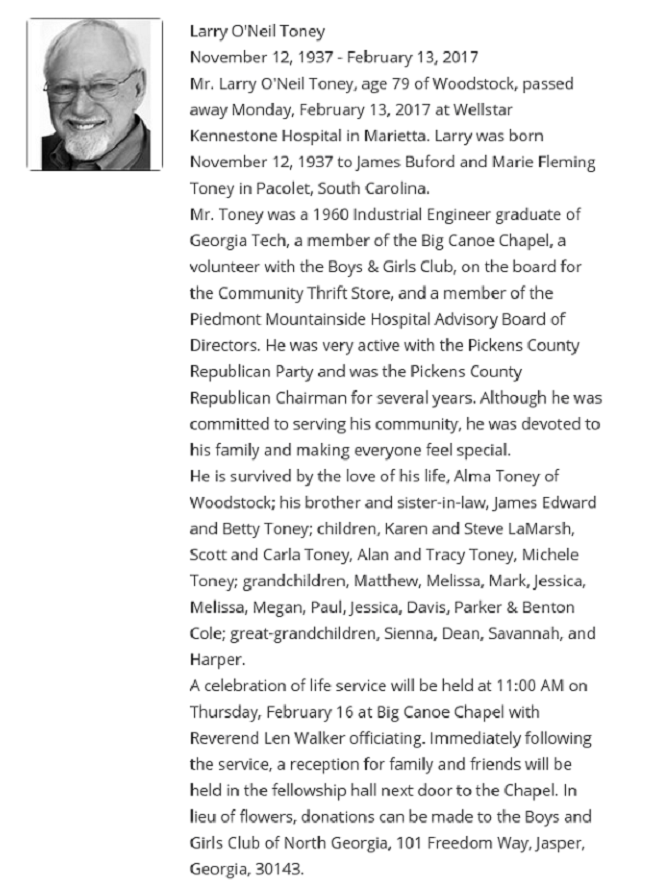 (We will add any obituarys that you might have. We could only find ones for Janice, Alline, Charles, Skeet, Evelyn and Larry.)