Roy "Sonny" Mathis was born and raised in the Goucher/Pacolet community. He graduated from Pacolet High School (53), Clemson University (57) and Southwestern Baptist Seminary (66). Mathis joined the Pacolet National Guard as a senior while at Pacolet High and completed 12 years in the Guard. He was serving as the pastor of Indian Hills Baptist Church, North Little Rock, AR and also serving as a chaplain for the Arkansas National Guard when he was called into active duty during the Vietnam Conflict.
Roy has just finished a book about his ministry as a chaplain in Vietnam. Although he served in the army for 30 years, this book covers only the one-year period while serving as the Battalion Chaplain for the 4/503rd Infantry, 173rd Airborne Brigade. Mathis kept a daily diary while in Vietnam and the book comes from that account. The book's title is "IT WAS A LONG WAY FROM HOME & A LONG TIME AGO, BUT GOD WAS THERE." In this well written and interesting book, Roy describes scenes and events that most of us can not even imagine. It is the story of struggle, sacrifice and up close battlefield fighting. It is also the story of the strong bond that develops between soldiers who shared the very real danger of being killed or wounded at any second.
Roy wrote the book as a history for his grandchildren, who, someday, may say "what did Papa do in the Vietnam War?" However, after its release it became very popular and the first printing was quickly sold out. A second printing is underway.
Copies of the book are available directly from Roy. Contact him via e-mail at
roynancymathis@bellsouth.net
; call him at 864-487-0933; or write him at 138 Mulligan Drive, Gaffney, SC 29341. The cost is $12.00, postage included, sent to the requester's address. Roy has not released the book for profit, and the $12.00 only covers the printing and postage.
The book is also now available from Amazon.com in a format for e-readers. The cost of the book is $3.99 for those that have Kindles or other types of e-readers. Click on
Mathis Book on Amazon
to got to the Amazon page to order the book. Since these pages often change, you can also go to the Amazon website and search for the book by its title - "IT WAS A LONG WAY FROM HOME & A LONG TIME AGO, BUT GOD WAS THERE."
The paper version of the book is also now available from Christian Supply in Spartanburg, SC for $10.00.
Roy retired from the army in 1992. He and his wife, Nancy, live in Gaffney. He is on the Board of Trustees of Limestone College and also serves as Chairman. In addition, he presently serves as a Consultant with Marketplace Ministries, Inc. In addition to his BS from Clemson in 1957, Roy holds master's degrees in Divinity, Guidance Counseling, and Industrial Relations.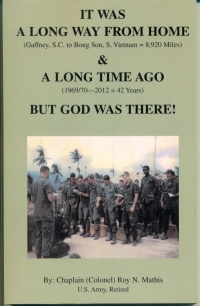 Click cover for larger view.