The Rescue Squad played a vital role in the Pacolet area for many years. Its story is told in Volume I of
The History of Pacolet
as shown below.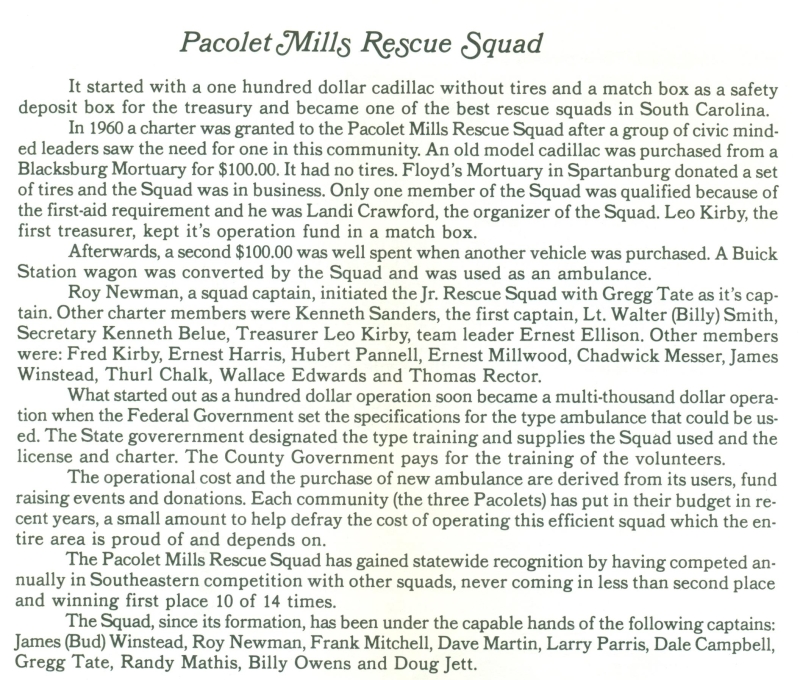 In no particular order, the complete list of Captains of the Pacolet Mills Rescue Squad were James Bud Winstead, Roy Newman, Frank Mitchell, Dave Martin, Larry Parris, Dale Campbell, Gregg Tate, Randy Mathis, Doug Jett, Billy Owens, Tommy Smith, Tony Goforth, Josh Henson, Neil Craig, Calvin King, Brian Helms, Billy Fisher, Walter (Billy) Smith and Randy Brackins. Please let us know of any omissions.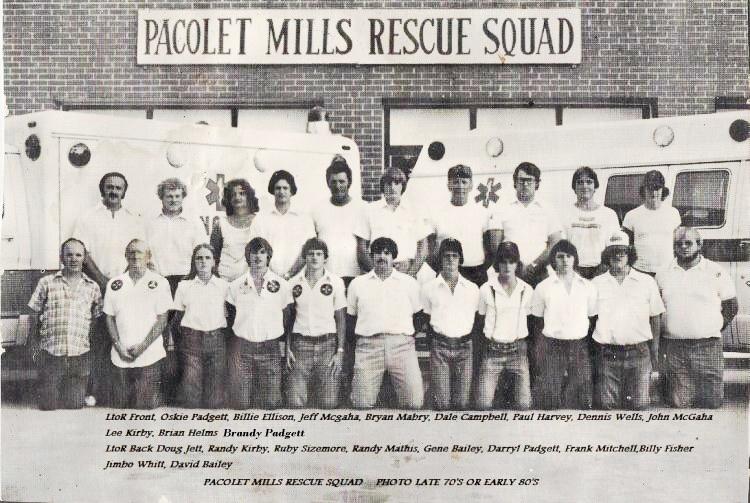 Sadly, after serving the Pacolet Community for almost 50 years, the Squad closed last year. During this time, the Squad provided invaluable assistance to many Pacolet citizens and helped save numerous lives. Randy Mathis, a former Captain of the Squad, has undertaken an effort to establish a Memorial
Wall of Tribute
to the Rescue Squad to keep their memory alive. Randy joined the Squad when he was 14 in 1974. He left the squad in 1984 to pursue a career with the North Spartanburg Fire Dept. but stayed on with the Pacolet Fire Dept. as a volunteer where he now serves as a training advisor with a lot of his friends who also started as Jr. Fireman back in what they call "the day".
Randy has furnished a list of several unique facts relating to the Rescue Squad and the
Fire Department
. These are:
To date and through several generations, Pacolet has produced many persons who went on to be career firefighters at other paid agencies, myself (Randy) included. To date, more than 32, most who stayed and served many years as volunteers.
The Rescue Squad was started because another county squad was giving a demonstration at a Pacolet Tuesday night Fire Drill. A house fire alarm came in and one of the firemen was injured. Of course the visiting squad rendered immediate First Aid.
Pacolet Mills Rescue Squad won the state Heavy Rescue Competition title for 11 out of 13 years in the 1970's and early1980's ultimately defeating the world champions from Lambertville, New Jersey. Click on this link,
Heavy Rescue Competition
, to see some photos and more information about the Competitions.
Members of the Rescue Squad were nicknamed the "Redbirds" for our colorful all red coveralls that we wore to compete in.
Pacolet and Pacolet mills were the first Spartanburg County Fire Departments to start responding together to all structure fires on the initial alarm.
The Rescue Squad purchased the first "Jaws of Life" in Spartanburg County. For years ,we took it to the Darlington Raceway twice a year and were part of NASCARS track safety team.
Pacolet and Pacolet Mills were the first county Fire Departments to merge into one operation in the late 1990's.
See Pacolet Fire District.
Randy was a Chief of both the Pacolet Mills Volunteer Fire Department and the Rescue Squad. He has also furnished his recollections of time spent in the Pacolet Mills Fire House when he was young. Read this at
"If Walls Could Talk"
.
If you would like to help Randy in his efforts to establish a Rescue Squad Memorial, he can be contacted at
captmathis@yahoo
.com
or call him at 864-316-6362.
If you have a story that you would like to share of how the Rescue Squad helped you or a member of your family, please send it to me at
gteaster@pacoletmemories.com
and I will put it on the website.
In December, 2015, Easter Steadings Fisher furnished us more photos of the Pacolet Mills Fire Department and the Pacolet Mills Rescue Squad. See these at More Photos.
The citizens of the Pacolet area have long been aware and appreciative of the services provided by the Rescue Squad. One unusual, but very tangible way, to see this is through the Obituaries of people who have passed away in Pacolet. Time after time, you will read where the family requested a contribution to the Rescue Squad in lieu of sending flowers to the funeral.
PACOLET MILLS RESCUE SQUAD REUNION
Saturday April 14, 2012 at the Pacolet Fire District Headquarters Hillbrook Circle, Pacolet, SC . Doors open at 11am Meal and Program around Noon.
For more information, contact Randy Mathis at
retchiefmathis@yahoo.com
.